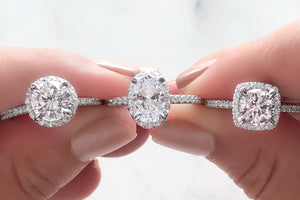 Many customers today are confined to choosing catalog jewelry pieces that inevitably reflect the ideas other than their own. We often hear from customers who have creative, personalized ideas for jewelry, but cannot find anything on the market that fits thier image. At Wilson Diamond Brokers, one of the things we take the most pride in is our ability and willingness to make the customer vision a reality, working closely with individuals customer to design a unique one of a kind piece.
How it starts?
The first step is to create the custom jewelry design. If the design is based on an existing ring, the designer may get started straight away. If not, a CAD image is created in order to help plan out the design of the ring.
Approval
Once the CAD image is ready, we will send it to you for approval. If changes needed to be made, we adjust the CAD accordingly until we get it exactly right. At this point we use our 3D printers to create a wax version of the custom ring.
Casting
Using the wax, we then create a mould into which the gold or platinum is poured, thus casting the custom ring into life. At this point the ring is passed on to our goldsmiths, engravers and diamond setters who hand finish your custom engagement ring and polish it, ready for delivery to your door.
 ***DUE TO THE NATURE OF A CUSTOM PIECE BEING SPECIFICALLY DESIGNED FOR YOU, ONCE THE CAD HAS BEEN APPROVED, NO REFUND WILL BE PROVIDED FOR THE FINISHED PIECE.***